My Cub Scout pack had its Blue and Gold banquet the other day, and I was tasked with making cupcakes for dessert. With plenty of time available, I wanted to do something a little nicer than just cupcakes out of a box, so I used a recipe that used boxed cake mix as a starter, but with some additions.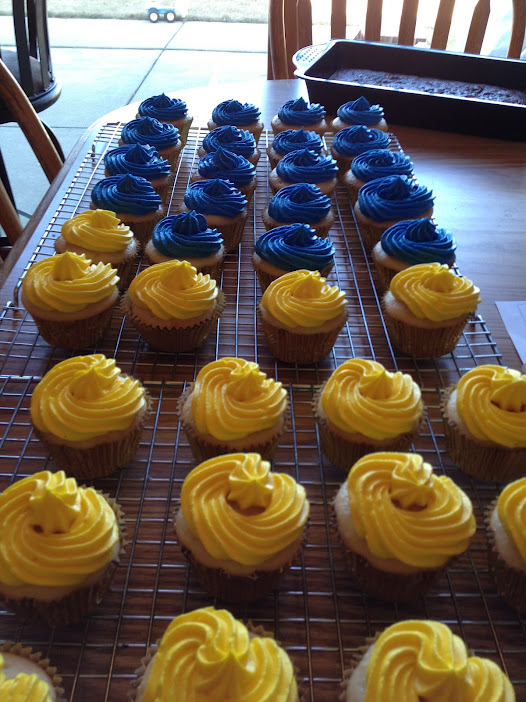 Here's what I did:
Cake ingredients
• 1 box of white cake mix
• 1 cup all-purpose flour
• 1 cup sugar
• 1/2 teaspoon salt
• 1 1/3 cups water
• 3/8 cup vegetable oil
• 1 teaspoon vanilla
• 1 teaspoon almond extract
• 1 cup sour cream
• 4 large egg whites
Frosting ingredients
• 1 cup shortening
• 1 cup (2 sticks) unsalted butter, softened
• 1/2 teaspoon salt
• 4 cups powdered sugar
• 2 teaspoons almond extract
Cupcake instructions:
Preheat oven to 375° for at least fifteen minutes.
Place all dry ingredients in a large mixing bowl and stir with a wire whisk to combine. Mix the wet ingredients in a separate bowl and whisk to combine. Pour the wet ingredients into the dry and blend with a hand mixer on medium speed for two minutes.
Spoon batter into cupcake cups. I use a spring-loaded disher and put 3 tablespoons into each, which fills them a little over half full.
Bake for 25 minutes. Remove and let cool in the pans for about five minutes, then remove the cupcakes to a cooling rack to cool the rest of the way.
Frosting instructions:
Place shortening and softened butter in mixing bowl. Whip until completely blended. Add the salt.
Slowly add powdered sugar in small increments until all is incorporated. After the first 3 cups have been added, add the almond extract.
If you want to color the frosting, use the gel coloring (you can find it at Hobby Lobby, of all places!), not the liquid kind you find in the baking aisle at the grocery store as that will make the frosting too liquid before the color gets deep enough.
This makes enough for 24-36 cupcakes, depending on how much batter you use for each.